Arab Fashion Week 2020 Highlights
DATE: 28-06-2020

VENUE: Dubai
Arab Fashion Week 2020 Highlights
Arab Fashion Week (AFW) has yesterday broadcasted live its second day of fashion shows, beyond the shows panels and Shop the Runway.
The Shows, Beyond the Shows panel discussions aired live on the AFW website arabfashionweek.org and broadcasted to audiences everywhere via the official a
@ArabFashionCouncil instagram and @arabfashionweek TikTok accounts. The runway collection is made stoppable simultaneously online through the Arab Fashion Week's "Shop the Runway" website by enabling the designers to sell their collection directly to the customer.

Day two of the Arab Fashion Week 2020 has showcased 4 designers:
---
Model wearing protection mask on the Arab Fashion Week runway
Dubai, 26 June 2020.
FAD TALENTS - UAE
FAD, the Luxury Fashion & Style Institute in Dubai has showcased yesterday at the Arab Fashion Week in a collective show 40 looks from the Fall Winter 2021 selected from 8 fashion graduates. FAD and the Arab Fashion Week have collaborated over the last 3 seasons to support young and emerging design graduates from FAD Dubai & India and help them garner global visibility as they start their careers.
After having showcased its talents at the Arab Fashion Week, FAD talents where given access to showcase on the official schedule of Milan & London Fashion Weeks.

FAD Dubai is committed to its ongoing support for young regional designers and this season has unveiled 8 of its students and their collections at the first ever digital fashion week in the region. The graduating designers and alumni include:
"Our vision is to support Middle East's young creative community and give them industry focused learning teamed with exposure to help them work across various roles in fashion and the luxury sectors" quotes Shivang Dhruva - Founder at FAD Dubai.
"Not only has AFW given a platform to your designers; but students from across fashion styling, fashion business, retail & luxury have also been given the opportunity to intern and get a hands-on experience through AFW, 1422 and the new online retail platform by AFW and this truly celebrates the FAD-AFW partnerships" adds Shirin Aminian - Founder at StyleSchool and Creative Director at FAD.

Click here to watch the full show and view the entire FW21 collection.

---


NUEVE - TURKEY
Rusen Denizlili is the founder and head designer of Nueve, presented yesterday her Resort 2021 title as "Daze in Spirit".

Daze in Spirit collection draws its vibrant energy from mix of feelings pureness coming together to ornamental traditions. Comprised of 15 different, multilayered looks, Nueve aims to reflect the beauty and simplicity of delicate patterns and structures found in nature. Cue intricate embroidery, bold silhouettes accentuating femininity, and distinctly glamorous gowns. From crystals, asymmetric sequins, and soft touches of layer designs, to volumed tulle dresses, the perfect balance by using a variety of textures and fabrics that ultimately endowed its true essence. Using a combination of softness in its true form, a form that is invisible to the naked eye, the collection brings together elegant materials, such as luminous silk organza and italian-satin, with handmade embroideries with pearls and swarosvki stones. Sensuality and modernism, along with a distinct femininity accentuated by precious embroideries and crystals. This is one of the collection attracts attention on simplicity in richness, stylish, confidence, and passion,
The label focuses on defined silhouettes with attention to accessory detailing and fabrication for the woman who seeks internal and external confidence and empowerment.
Nueve is created to appeal to the woman who appreciatess timeless fashion but maintains confidence to dareful pieces. All pieces are created in Turkey from luxurious fabrics from Paris and ?taly such as pure silks, and adorned with exquisite hand-done embellishments and embroideries to give each piece a one-of-a-kind look and feel.
Based in Turkey, designer Rusen Denizlili combines her Turkish roots into her high-end clothing for women. Precise cuts, soft colors and an neutral touch make her collections outstanding, although not avant-garde, sexy without being unwearable, elegant without being old-fashioned, she always makes a statement, contrasting elements of romance and softness with elements of pureness and seduction.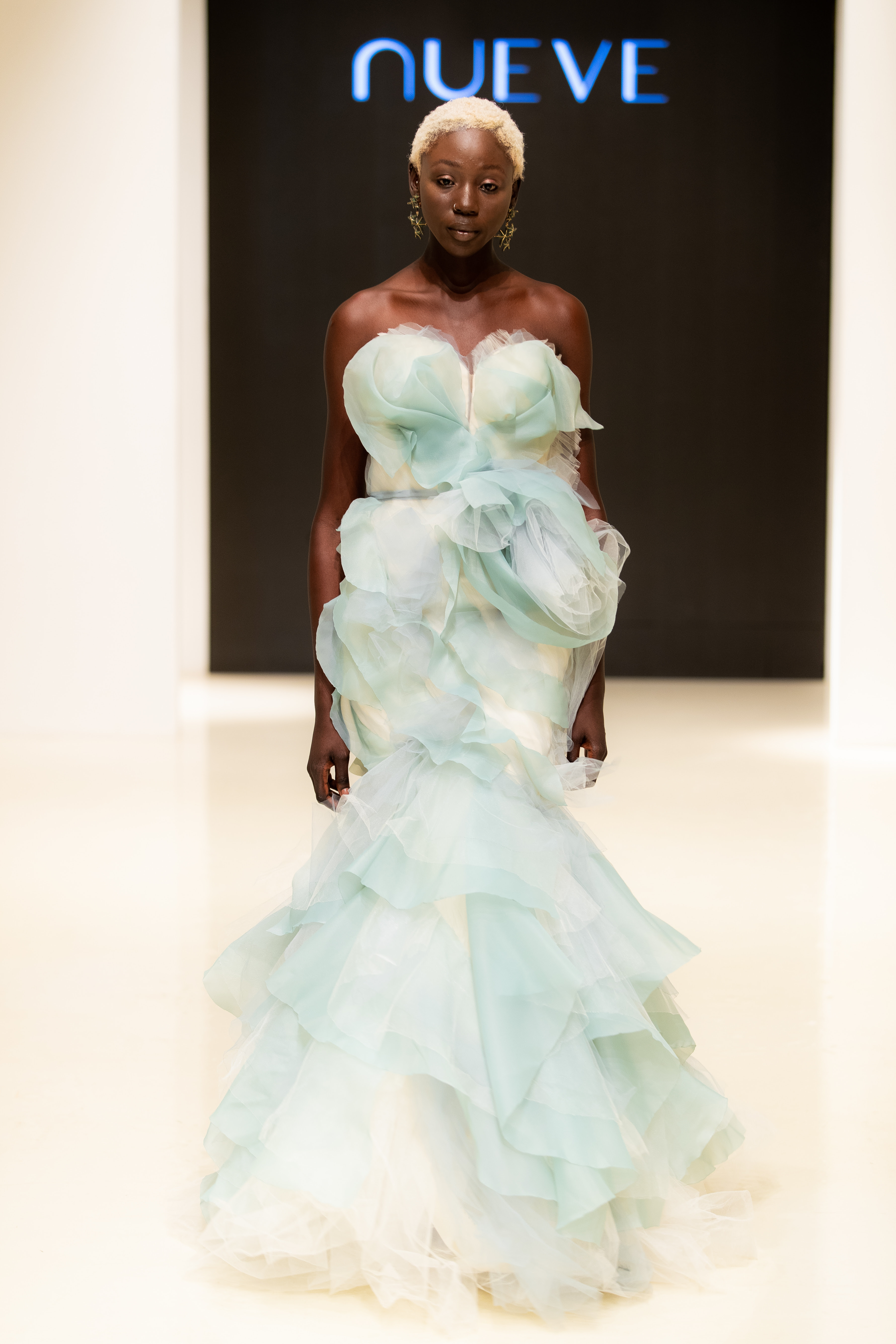 Click here to watch the full show and view the entire FW21 collection.
Click here to shop the runway
---
SOPHIA NUBES - ITALY
The Italian Label, Sophia Nubes, known for her "We Are Ahead" print, pays tribute to sustainability and women empowerment and has become a permanent fixture on the Arab Fashion Week's official schedule, has showcased a purely Ready-to-Wear Fall Winter 2021 collection which unmistakably represented the renown prestigious quality synonymous with the Made in Italy. The choice and of high-quality fabrics, attention to detail and precision fitting garments are elements you will always find at Sophia Nubes.
Jersey couture that is ready to wear ensures that the Sophia Nubes woman is AHEAD – ready to face any challenge the world presents to her. She is creating the future with clothing that respects her and the environment she lives in. The innovation and creativity that is employed daily at Sophia Nubes to develop clothing is demonstrated in its collections that are not only comfortable but also full of streetwear details. The Sophia Nubes woman is AHEAD.

Click here to watch the full show and view the entire FW21 collection.
Click here to shop the runway

---
AAVVA - UAE
The Dubai homegrown label, a brainchild of its CEO Ahmad Ammar and Creative Director Vincenzo Visciglia, has paid tribute yesterday, through their Resort 2021, to sustainability and equality highlighted by a line up of only African models. The lauded Dubai-based atelier, Aavva, has created their bold and joyful collection completely from fabric of their previous collection. Inline with the brand's philosophy, to view the phenomena of escapism and adventure, the Brand has focused mainly on sustainability and bringing joy and life through colours and vibrant neons, light fabric and edgy design statements aiming to celebrate love, creativity, and positivity, all while reducing waste and preserving nature.




Click here to watch the full show and view the entire FW21 collection.
Click here to shop the runway
---
You can now shop your favourite runway looks at the "Shop the Runway" e-commerce curated by the Arab Fashion Week by clicking
here
.
---
DAY THREE SHOWS START TODAY AT 8PM DUBAI TIME FEATURING:
1- JOWEH - IRAN @ 8.00 PM
2- BARAVIA - UAE @ 8.15 PM
3- BEYOND THE SHOWS @ 8.23 PM
4- BEHNOODE - ITALY @ 8.30 PM
5- BEYOND THE SHOWS @ 8.35 PM
4- AMATO - UAE @ 8.45 PM

Live on www.arabfashionweek.org
Instagram: @arabfashioncouncil
TikTok: @arabfashionweek