Being a country that is rich in natural diversity and graced by a terrain of mountains, gorges, deserts, and azure seas, the Sultanate is a dream come true for the outdoor enthusiast. With activities that range from diving and photography to rock climbing and camel racing, Oman offers a bit of everything for every visitor.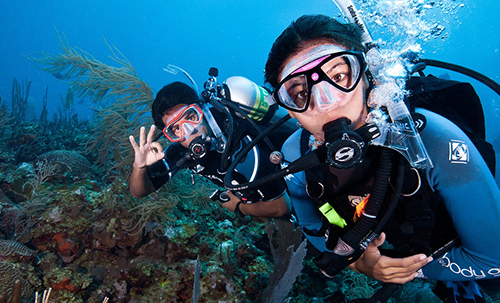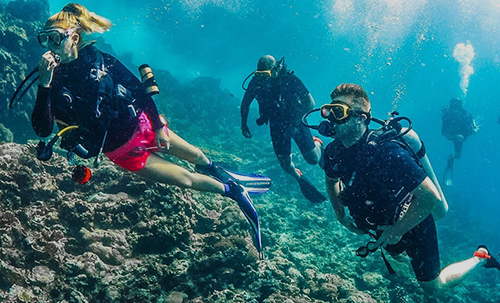 Scuba Diving
Oman has a coastline that extends over 1600 kilometers, providing one of the most untouched prime diving destinations in the world. With a wealth of sea flora and marine life that includes many kinds of pelagic species, there is something for divers of every experience level to discover amongst its hidden under water treasures. Several companies specializing in diving services offer a complete range of diving courses, diving equipment and activities (night dives, wreck dives, etc).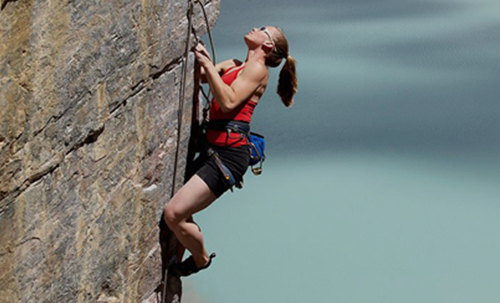 Rock Climbing
Having a landscape that is famed world over for its rugged mountains and jutting cliffs that plunge straight into the Arabian Sea, the Sultanate has been one of the top spots for pioneering rock climbers since the 1980s. For the rock climber,every mountain face presents an enigmatic challenge with a maze of spurs, wadis, and deep canyons. 'Rock Climbing in Oman', written byR. A. McDonald (available at most bookstores and shopping centers in Muscat) gives more specific information and insight about this activity.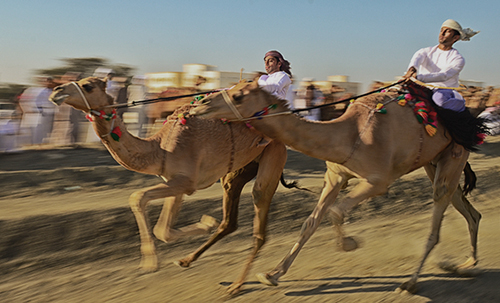 Camel Racing
Camels have been an integral part of the Omani lifestyle since the ancient times. Camel racing is an exciting sport that is very much like horse racing; camels and their owners congregate on racetracks to compete. Racing camels are bred for the track and are highly prized possessions. A good racing camel can fetch a price of RO 30,000 (US $ 77,400). A full schedule of camel racing in Oman can be found on @http://www.rca.gov.om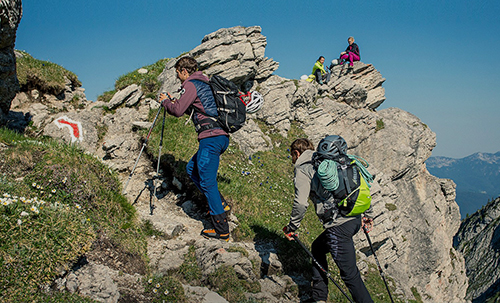 Trekking
Nothing could be more exciting than discovering the Sultanate's scenic mountain beauty on foot. Though the official trekking season in the country runs from September to May, it is preferable to go on a trekking expedition after October, or before April, to stay away from the harsh heat. Muscat has a tremendous amount of tour operators who specialize in trekking tours through Oman's mountainous paradise.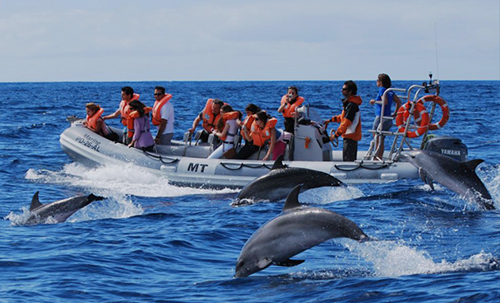 Dolphin Watching
Muscat and Musandam are renowned for their status as the dolphin watching regions of Oman, although this activity can also be enjoyed in the governorates ofA'Sharqiyah, Al Wusta, and Dhofar. The best season for sighting dolphins (up to 21 species) is between October and May, during the wee hours of the morning, or late evening. Several tour agencies have attractive packages for dolphin watching tours in the capital.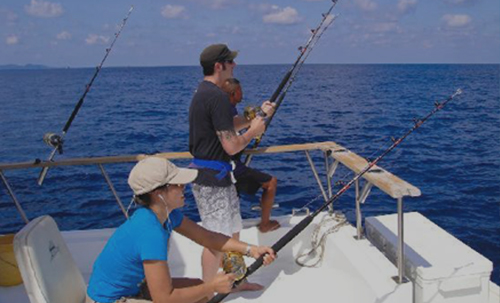 Game Fishing
As the waters of Oman's coast are home to one of the most diverse aqua life forms in the world, it goes without saying that game fishing has picked up in popularity as a sport over the years. Species such as marlin and tuna are highly sought. The sport is affordable, and even novices can try their luck at bagging one. For comprehensive information regarding game fishing in the Sultanate, its requirements and best conditions,visit this link: http://www.fishingoman.com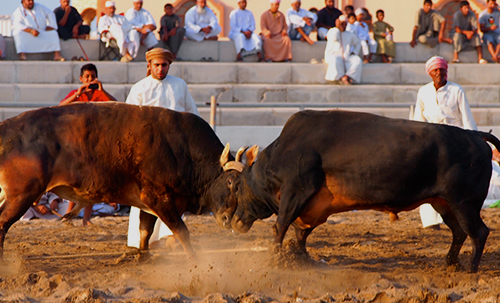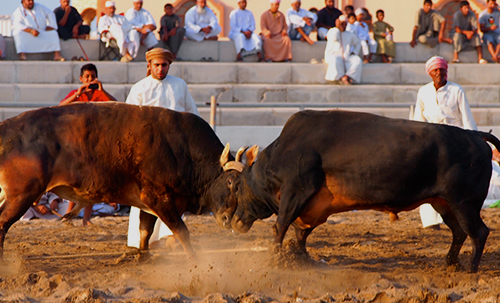 Bullfighting
Completely unlike its Spanish variety, bullfighting in Oman is also known as bull-butting, a bloodless contest between the animals, rather than the bull and the matador. Contests are held between large Brahma bulls, traditionally fed up on a diet of milk and honey. The first one to get knocked down or run away is declared the loser. The fight lasts only for a few minutes and the bulls suffer no injury Bullfighting usually takes place on Friday afternoons in the cooler winter months along the Al Batinah coast.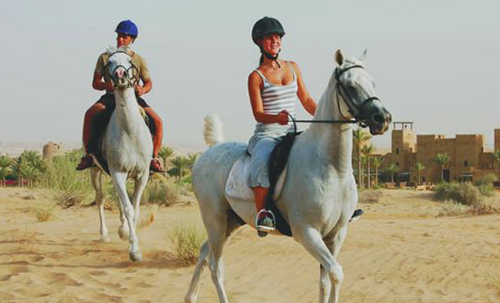 Horseback Riding
The Arabian stallion is a beast worth riding. Being a nation proud of its horses, the Sultanate promotes many competitive equestrian events. Flat racing and endurance riding are very popular, as are tent-pegging races: an age-old event involving riders competing to pick up tent pegs from a line in the ground using long lances, all at gallop. The Royal Stables in Seeb is a good spot to witness such events, while the region of Al Kamil/Al Wafihas the best breeders and trainers in the country.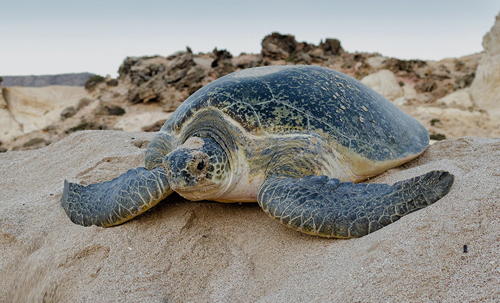 Turtle Watching
Thousands of sea turtles migrate annually from the shores of the Arabian Gulf, the Red Sea and Somalia to lay their eggs on the Sultanate's shores. Oman has five of the seven species of sea turtles, and are plentiful on the beaches of Ras Al Hadd, Ras Al Jinz, the Masirah Island and the A'Daymaniyat Islands. Green turtles, loggerheads, Hawksbill andleatherbacks live for over 100 years and return every year to the same sites to lay their eggs. Many tour operators and hotels in Sur offer turtle watching packages.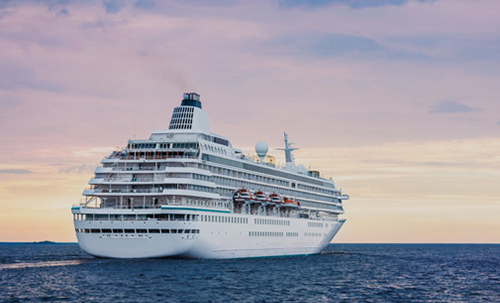 Cruising
Cruises in Oman are an inseparable part of its history. Oman is surrounded by the sea and Omanis are famous for their love of their azure waters. Many tour operators in Muscat and A'Sharqiyah organize cruises and related activities, whether it is watching dolphins or sailing. There is barely a beach in Oman that does not organize such trips, since many areas of the country's natural scenery can be reached only by boat.