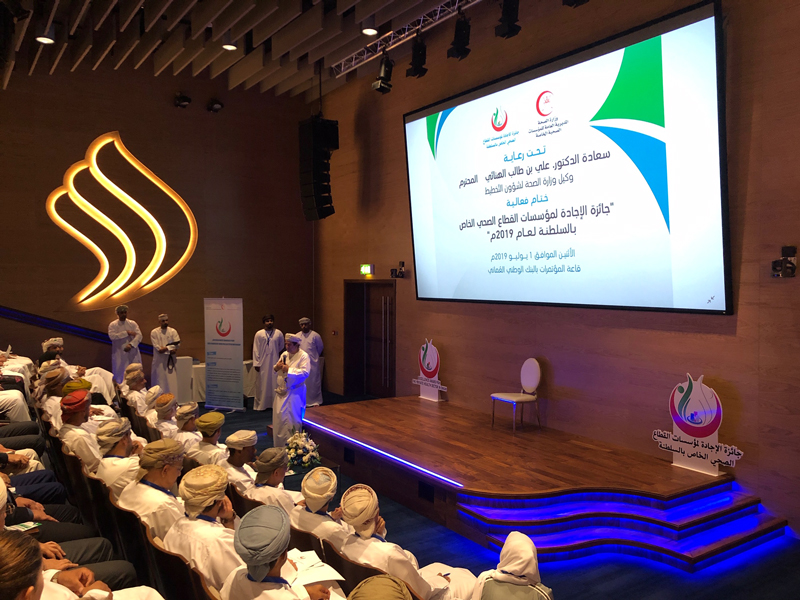 NBO HOSTS INSTITUTIONAL EXCELLENCE AWARD CEREMONY
DATE: 08-07-2019

VENUE: Muscat
Muscat, 7 July 2019 – National Bank of Oman (NBO) hosted Ministry of Health's (MOH) ceremony for the Institutional Excellence Award for the Private Health Sector in the Sultanate. Held at NBO's headquarters under the patronage of Chief Guest HE Dr Ali bin Taleb Al-Hinai, Undersecretary of the Ministry of Health for Planning Affairs, the event was organised by the MOH, and attended by members from MOH and NBO management teams, in addition to a number of CEOs and MDs of private hospitals and clinics.
Commenting on the ceremony, Hassan Shaban, General Manager - Chief Government Banking Officer at NBO, said: "We remain dedicated to supporting government led initiatives and in particular, those that boost the partnership between the public and private sector. We honour our long-standing relationship with the Ministry of Health and fully back its aim to have a leading healthcare system with international standards."
The award aims to improve the quality of private healthcare services and patient safety in accordance with global standards by establishing a culture of excellence. Its goal is to create a competitive environment among healthcare establishments, urge staff to conduct research and health studies, as well as encourage entrepreneurs to invest in the private healthcare sector.
NBO affirms its commitment to partner with the Government in various fields especially in relation to the development of health services in the Sultanate. Further cementing its position as a strong believer in developing solid relationship with the public sector.