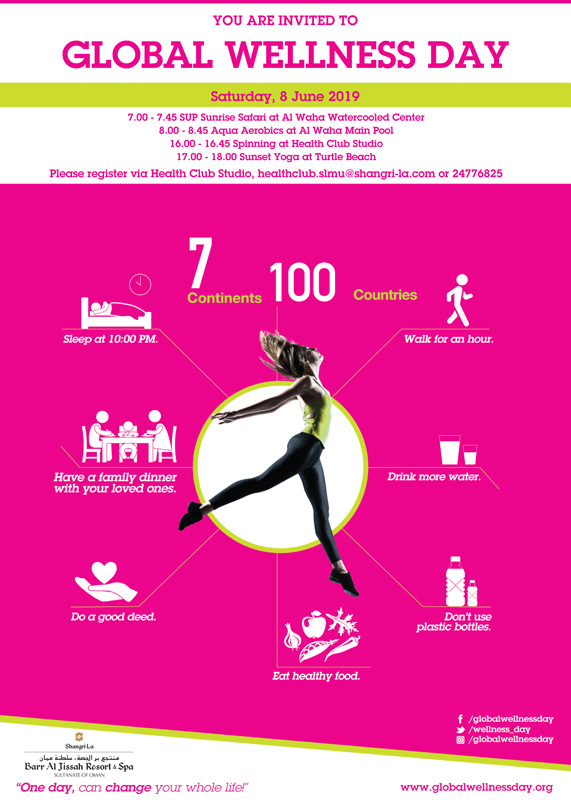 SHANGRI-LA BARR AL JISSAH RESORT & SPA, SULTANATE OF OMAN OFFERS A WIDE RANGE OF ACTIVITIES TO CELEBRATE GLOBAL WELLNESS DAY
DATE: 10-06-2019

VENUE: Oman
Shangri-La Barr Al Jissah Resort & Spa, Sultanate of Oman celebrates annual Global Wellness Day on Saturday 8 June 2019 with a range of sports activities, a special Wellness Day section at the restaurants and an exclusive spa offer.
The target is not only to raise awareness about living well, but also to increase motivation, not just for this day, but for the rest of the year. The goals of Global Wellness Day align with Shangri-La's core value of hospitality from the heart, which includes concern for the health and well-being of its guests, colleagues and communities.
The hotel will begin the day with a tranquil Stand-up Paddle Sunrise Safari from 7 to 7:45 a.m. in the pristine waters of the hotel's bay. Meeting point will be at the Al Waha Watercooled centre.
At 8 a.m. an uplifting and invigorating aqua aerobic session will be held in the Al Waha main pool. This exciting activity will be followed by a healthy breakfast at Samba and al Tanoor, located at Al Waha and Al Bandar, respectively.
The hotel's professional instructor will host an energising spinning class in the Health Club studio, where fitness enthusiasts will have the opportunity to exhaust themselves. Furthermore, the day will end with a relaxing sunset yoga on Turtle Beach at 5 p.m. This remote and calm place turns into a magical scenery during sunset.
Shangri-La Barr Al Jissah Resort & Spa, Sultanate of Oman Celebrates Global Wellness Day Page 2 of 3
In support of the Global Wellness Day initiative, CHI, The Spa also extends an exclusive offer for resort's guests and Muscat residents during summer: they can spoil themselves and relax with any 60-minute spa massage of their choice for just OMR40 net or pamper themselves with any 30-minute mini-facial for just OMR25 net.
Shangri-La Barr Al Jissah Resort & Spa, Sultanate of Oman will also celebrate this worldwide initiative with the global community on social media. Guests and colleagues can join the movement by taking photos in the Global Wellness Day photo frame located in the venues of the activities and around the pools. There dedicated hashtags for posts are #GlobalWellnessDay and #ISayYes